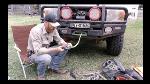 12mm Silver Dyneema Sk75 Synthetic 12-strand Winch Rope X 25m With Hook 4×4
WINCH ROPE REPLACMENT DYNEMA ROPE TIPS

These winch ropes are handmade to order and can be manufactured to any length you require. 12mm silver dyneema sk75 synthetic 12-strand winch rope x 25m with hook 4×4 highly resistant to uv & most chemicals. Complete With A 2 Tonne Safety Hook. Orders exceeding 2kg will be sent via 48 hour courier.