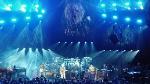 Rare Dead & Company 2016 Cincinnati, Ohio Summer Tour Concert Poster
L L Rain Dead and Company

Rare dead & company 2016 cincinnati, ohio summer tour concert poster this item can be shipped to united states. This was supposed to be an incredible concert and this poster would be a good way to remember it whether you were there or not. The poster is a leftover from the concert sales and is in mint condition.